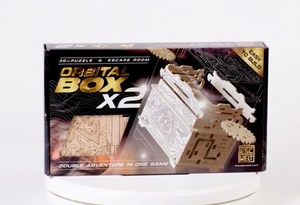 TITLE
Orbital Box Constructor
CREATOR

Esc Welt

Regular price

Sale price

€39.90

Sale
Tax included.
3D Puzzle Orbital Box 
Assemble your own escape game!
3D Puzzle Orbital Box is a new form of intellectual logic game designed to play the story and scenarios of the EscapeWelt quest. After assembling the constructor, get to the secret compartment with your loved ones without leaving home! Double the fun! A thrilling experience, tricky traps, and intricate puzzles of the quest room await you. 3D Puzzle Orbital Box is designed by experienced engineers who have developed unique puzzles and multi-level challenges. We don't promise it will be easy. But we guarantee that it will be very interesting!

The legend
Elysia is the only inhabited planet in the universe. And you are the captain of the colonizing team that is heading here!
Your ship has left the solar system and is about to make an interdimensional jump to open a new world for humanity. To achieve this responsible goal, there are only few steps left to take!
Be sure to check the radar and plot an accurate landing route, disable the autopilot system and unlock all the necessary launch keys.
Oh, the ship's power system is so confusing... like a maze! However, you are such an experienced captain and will definitely manage with it!
To open new horizons for humanity, you will need to determine the correct combinations of letters and numbers, guess passwords for the database, look for startup keys... But do not forget about the defense system against inconsistent insertition, be careful with symbols. Any wrong action will result in a failed launch.
Good luck captain!
More than 300,000 customers have joined the EscapeWelt family. They appreciate our work and commitment to creating the best experience by showing their love and coming back again and again. Thank you for trusting us with your emotions! You inspire us to new ideas, and our team continues to delight you and your loved ones!
Format: Puzzle
Adding product to your cart