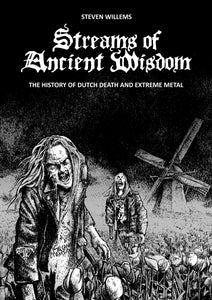 TITLE
Streams of Ancient Wisdom: The History of Dutch Death and Extreme Metal
AUTHOR

Steven Willems

Regular price

Sale price

€39.00

Sale
Tax included.
Title: Streams of Ancient Wisdom: The History of Dutch Death and Extreme Metal
Author: Steven Willems
Format: Book
Publisher: Cult Never Dies
400 page hardback book, large format (A4) pages.
During the late 80s and early 90s, most eyes were fixed on America and Scandinavia when it came to death and extreme metal. However, almost unknown to the masses, a fascinating and highly active scene was exploding in the Netherlands, spitting forth a legion of exciting bands, some of which made it to the international stage, and some of which sadly did not. 
Streams of Ancient Wisdom tells the fascinating story of the Dutch extreme metal scene during its most seminal years. Featuring a wealth of rare photographs and artwork, much of it previously unpublished, this book features over 100 interviews with Dutch bands, from well-known names like ASPHYX, PESTILENCE, THE GATHERING, THANATOS, GOD DETHRONED, SINISTER and GOREFEST, to underground (and underrated) heroes such as SEMPITERNAL DEATHREIGN, DELIRIUM, CASTLE, SILENXCE, INQUISITOR, PHLEBOTOMIZED and DEAD END.
 Furthermore, it digs deep into the metal culture of the country, exploring the important magazines, record companies, radio shows, recording studios and venues, not to mention Dynamo Open Air, one of the most important metal festivals in metal history. Meanwhile, members of international metal bands (including PARADISE LOST, MY DYING BRIDE, CARCASS, REVENANT, MESSIAH, IMMOLATION, VADER, ENSLAVED, MASTER, EMPEROR and more) also share their memories of the Dutch scene and the impact it had upon them.
 "The Netherlands played a big part in the development of thrash and death metal in my opinion."
Mille Petrozza (Kreator)
"The Netherlands have spawned an incredible amount of good bands."
Karl Willetts (Memoriam, ex-Bolt Thrower)
"Not sure if there's something in the water but the Netherlands pumps out extreme metal bands at an incredible level. There are big fields of tulips, and windmills… and fucking death metal!"
Jeff Becerra (Possessed)
Format: Book
Adding product to your cart